Sticky-lab Genetics is a light cannabis producer based in Terracina with a core business focused on the production of high-quality inflorescences. We interviewed Valerio, who founded the company in 2016 together with his partner Giuseppe, combining a passion for hemp with a concern for the environment, in search of the best CBD varieties.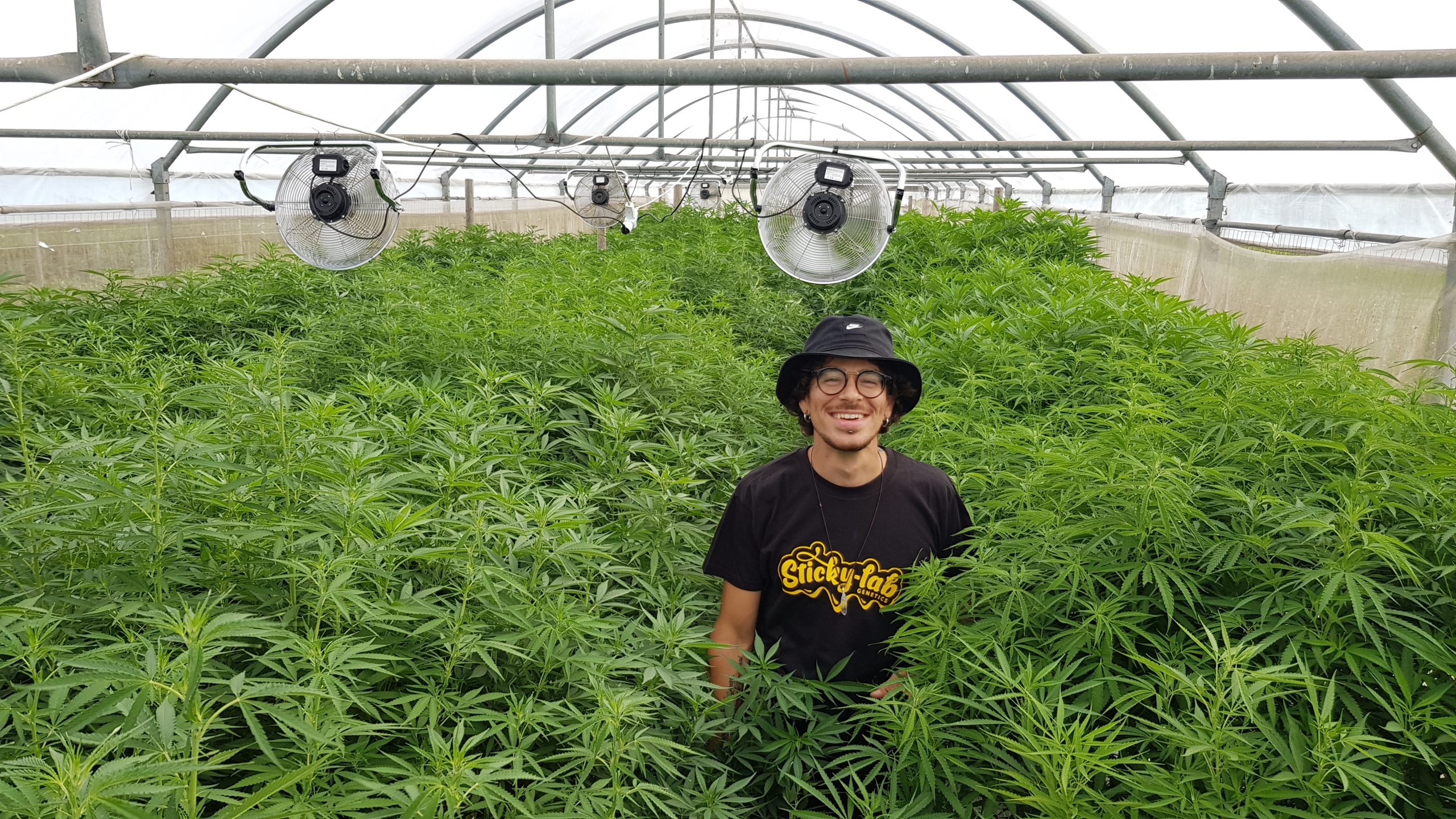 The company is particularly focused on sustainability and uses innovative growing techniques with a fully organic approach. This approach, despite the rapid growth in sales and the success of the brand, has never changed. The philosophy of the founders of Sticky-lab has not changed, nor has the passion and desire to always be at the forefront: Valerio and Giuseppe still work in the greenhouses together with the employees, and take care of every aspect of production.
"We take care of everything from seed to the final bag. We do not sell anything from other companies. This year we finished the 2022 product well ahead of schedule, beyond our forecasts, and the trend suggests that we will continue this good rise. But we like to take it one step at a time, so that each step is well settled from the ground up."
As demand grew, there was a need for practical and versatile packaging that could effectively communicate the company's values. This is where the collaboration between Sticky-lab Genetics and Packstyle began.
The CBD market in Italy and the flexible pouch option
Light cannabis, i.e. the variety with very low levels of THC and high levels of CBD, has been legal in Italy since 2016, the year Sticky-lab started its activity. Valerio proudly tells us about the journey of his company, which has managed to establish itself on the Italian and Spanish markets with great success. We discover that the entire 2022 crop has already been sold before the autumn and that for 2023 Sticky-lab plans to increase production tenfold.
Indeed, the market has evolved and today's consumers are aware of and demanding quality, ethics and safety. With this in mind, the choice of packaging is a key element. The flavours and active ingredients of hemp are sensitive to light and moisture and therefore require perfectly sealed packaging that prevents any form of contamination. This is where flexible, heat-sealable packaging made of materials that offer a complete barrier against external agents comes into play.
The advantages of Packstyle pouches for Sticky-lab Genetics
"There is nothing in our product and in what we do that does not make us proud. We go to bed at night with a smile, satisfied with what we do, exhausted, devoured by mosquitoes, but proud of our work and the professional way in which we do it."
Every word Valerio says is full of passion for his project, especially when he describes his products: inflorescences, hashes and CBD oils. They are the result of years of study and commitment, and their aromas and active ingredients are obtained through organic, innovative and complex cultivation and processing methods, which stimulate the plants to produce natural fragrances and enable the entourage effect of a wide combination of cannabinoids.
The sacrifices and research to produce natural, quality cannabis are always significant, but they have always been rewarded by the support and appreciation of customers. To them Sticky-lab has always delivered an intact and fragrant product that preserves the results of this constant attention, finding an excellent ally in the flexible packaging. The total barrier to light and moisture isolates the product from the outside and envelops its scents and qualities, guaranteeing its integrity.
Indeed, despite their differences, the articles need efficient packaging that preserves and protects the fragrances and cannabinoids naturally within the product.
For inflorescences and hash, flexible packaging is an ideal option, which won Sticky-lab over not only for its safety, but also for its convenience and ease of use. Before switching to pouches, the company used cans, but these proved to be unsuitable in front of growing sales.
Compared to cans, Packstyle packages offer some key advantages:
They allow easier and faster packaging, which is necessary to handle the high volume of demand.
They are suitable for sale in vending machines, opening up an additional market.
They feature a very large print area, with excellent graphic output.
They include a multi-graphics option, which allows multiple designs to be printed in one order.( link to multi-graphics page)
Of all packaging types, flexible packaging is the most versatile because of the possibilities it offers in transport, sales and the creation of new product lines.
Communication and design with flexible packaging
Sticky-lab Genetics differentiates itself from its competitors by offering products of the highest quality, the result of a long process of research, experimentation, and a strong work ethic. Valerio explains that in order to communicate these characteristics to buyers, graphic design is essential. Sticky-lab therefore focuses on refined designs, with great attention to detail and an individual aesthetic imprint.
The collaboration with the company's trusted graphic designer is always productive, inspiring, creative, and has helped the company to build effective and appealing communication. Together with the creative names, these psychedelic, colourful and imaginative designs make Sticky-lab products instantly recognisable.
The flexibility offered by Packstyle pouches is, in the hands of Sticky-lab, an indispensable marketing tool with which to assert its brand identity and successfully position itself in the CBD market. Packstyle's flexible pouches, which can be printed on the entire surface, are used every inch of the way by Sticky-lab's creatives and allow them to choose from three different finishes, for a perfect result every time. The multi-graphic option is also well suited to the needs of a company with different product lines, which requires quick and flexible solutions for packaging small quantities.
Ultimately, flexible packaging and digital printing offer Sticky-lab an ideal stage to express the company's personality and distinctive traits. Currently, the team is already working on the pouch design for a new hash bubble, scheduled for release in 2023.
Shared values: sustainability and ecological choices
The collaboration between Sticky-lab Genetics and Packstyle was a perfect meeting of needs and philosophies. Both share a sustainable approach, combining quality and care for the environment.
Sticky-lab has made organic farming and natural methods its calling card. All cultivation takes place above ground, with raised pots to avoid potential pollutants, and using only live soil composed by the company itself. Instead of fertilisers, soil conditioners and synergistic plants are used to aid growth and aroma production. Ladybirds and other natural antagonists are used instead of pesticides.
Another core value of Sticky-lab is its focus on the local market. So the decision to turn to Packstyle as a supplier was strengthened by the desire to support Made in Italy.
From first orders to stable collaboration: flexibility and customer focus
Flexibility is one of Sticky-lab Genetics' main requirements, which it also offers to its own buyers. For Valerio, it is this flexibility that creates lasting and profitable working relationships and produces the best results. This is why the company is looked after by a Packstyle salesman, with whom a direct and friendly relationship of trust has been established over time.
In Valerio's words:
"The thing that we are most interested in is the human relationship. It is having a supplier behind us for whom we are not just a number, but for whom our work is important."
The immediate contact between the two companies allows close collaboration and complete attention to customer needs. Thanks to its flexibility in order management, Packstyle is able to meet customised requests in a short time, supporting Sticky-lab's business model and growth.
The human relationship with customers is the last great element of success in the Sticky-lab and Packstyle experience. Together with the versatility and efficiency of the packaging, the quality of the graphic design and the shared principles, it has enabled the two companies to establish a winning partnership.